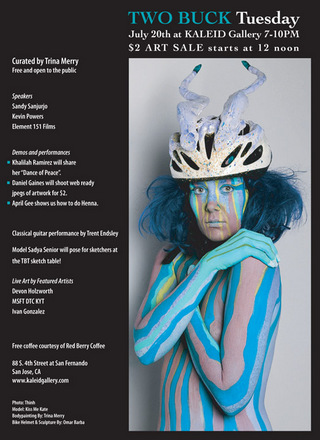 Find Your Muse at the Eclectic & Quirky Two Buck Tuesday
A bodypainter creates timely work about our relationship to oceans, A production company stays in San Jose instead of moving to LA, A performer dances for peace, and a local professor rediscovers artistic inspiration at KALEID Gallery's monthly Two Buck Tuesday July 20th.
TWO BUCK Tuesdays is an inspired event hosted by a crew of very dedicated artists at KALEID Gallery on the Third Tuesday of the month. Artists and audience alike are invited to attend, contribute and share in this unique event all free of charge.
The Two Buck Tuesday Crew organizes artistic, creative speakers, live demos, performances and live music jammed into three hours for a hyper shot of inspiration that you'll carry with you all month long until the next one.
"One thing all these speakers and performers have in common is passion and inspiration. They've all found their muse and want to share it," says July curator Trina Merry.
On July 20th from 7-10pm the public can see and speak with many amazing artists, performers and musicians and purchase $2 art (starting at noon.)
KALEID Gallery
88 South Fourth Street
Downtown San Jose
www.KALEIDgallery.com
408.947.1785