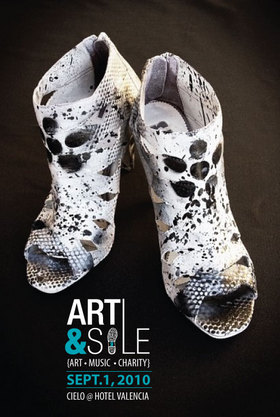 SJ FAM is looking for 5 of San Jose's top artists to participate in our 2nd Annual Art & Sole.

Requirements:
- Each artist will be asked to design 2 shoes: 1 male and 1 female shoe to auction off at the 2nd Annual Art & Sole.
- Artist will be given 2 weeks to design 2 pairs of shoes, finished products must be returned to SJ FAM by Friday, August 27. Shoes will be provided by event sponsors.
- Since bidders have an option of purchasing shoes as is or having a replica made in their own size, artist may need to create a 2nd pair of each shoe to tailor the shoe size of the bidder.
Benefits:
- Selected artist will receive 50% of the total bids placed on each of his or her shoe.
- Bids will starts at $50 per shoe.
- Artist will be promoted on www.sjfam.com
If you are interested in being an artist for Art & Sole please send an e-mail of interest to submissions@sjfam.com
Please include:
Contact information
A brief description of your interest
Link to portfolio
Deadline for submissions: August 7, 2010