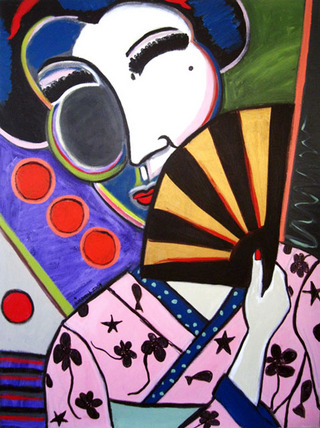 Figures: Wandering in Wonder
The selection of work included in this exhibit includes paintings of figures in various states of mood and expression. Completed over the last four years, the works are also a sample of Almondia's first years creating art. "I hadnít realized a lot of my work is figurative. It wasnít until installing the artwork for this exhibit that I realized they were all figurative and mostly female." says Albert about his current exhibit at Soula Power Yoga.
Themes of seduction, romance, elegance, heart-break, mystery, happiness, and simultaneously, inequality and solidarity are presented. "Probably because Iím a man Iíve been asked why so many women as subjects in my art? The answer lies within the work itself."
Almondia was born and raised in San Jose, CA. Selected past exhibits include KALEID Gallery, Eclectix Gallery (formerly in El Cerrito) and USF School of Law's Creative Justice Art Show a fundraiser to support a domestic violence program in San Francisco, CA. This is Almondia's first solo exhibit.
Prints available at http://albert-almondia.artistwebsites.com
Exhibit on view through August 2010.
Soula Power Yoga
200 S. First Street, Suite 70 (on the Paseo between 1st & 2nd)
San Jose CA 95113
408-993-9642
www.soulapoweryoga.com