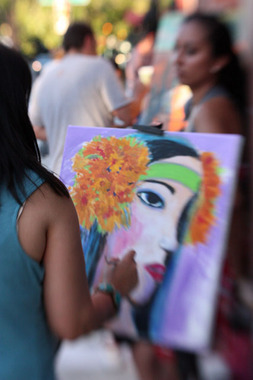 Artist Maria Sanchez
We were very pleased to once again be asked to participate in the revitalization efforts of downtown Redwood City by providing 16 exhibitions by local and regional artists in the vacant storefronts at 2107 Broadway Street (between Jefferson & Theater Way).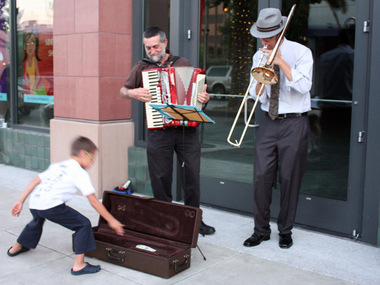 Artist/Musician Gianfranco Paolozzi & Danny

Last Saturday, June 12th, we joined the Second Saturday Art Walk by having 8 artists line the sidewalks with live painting, demonstrations and beautiful music by Gianfranco & Danny in front of the window exhibitions.

Participating Phantom Artists: Erica Aranyos, Damon Bailey, Mariana Barnes, Daniel Gautier, Ysmay, Minal Jeswani, Stuart Johnson, Lorraine Lawson, Woody Miller, Beth Mostovoy, Donna Orme, Gianfranco Paolozzi, Maria Sanchez, Matthew Seigel, Kate Stewart and Timothy Tsun.
More images from the event here.
Exhibitions are on view through August, 2010.
We appreciate our project partner Redwood City Redevelopment Agency and the project sponsor San Mateo Credit Union.