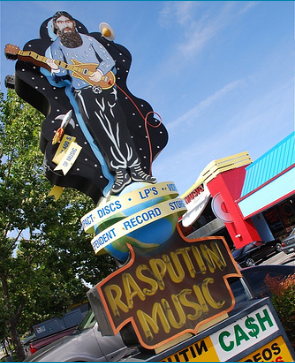 Scion x-CHANGE comes to San Jose in support of local arts-based KALEID Gallery. Come out and be a part of the arts in your community. For every test drive completed, money can be donated to KALEID Gallery.
KALEID (Greek for beauty and form) was borne out of San Jose's Phantom Galleries (artwork in empty storefronts project) in December 2006. Seventy fine artists and designers from the San Jose area make use of a 6,000 square foot retail space with individual exhibits that include painting, sculpture, photography, jewelry and textile art. The artists range from young and emerging, to seasoned and well accomplished. Every First Friday of the month debuts two new Featured Exhibits in which two current artists are selected to display a broader body of work. Artists are present to speak with guests about their work and process and is often accompanied by local live performances. First Friday Artists' receptions are from 7-9pm and is a participant of the South First performances. First Friday Artists' receptions are from 7-9pm and is a participant of the South First Fridays art walk.
Original artwork by Damon Soule, Scion x-CHANGE's 2010 Featured Artist, will also be on site. Check him out under Featured Artists! You'll even be able to make your own piece of art to take with you and share online with your friends and family.
Drive for x-CHANGE!
Stop by anytime this Wednesday, June 23rd, 12PM – 8PM.
It'll only take 15 minutes of your time and can greatly benefit KALEID Gallery's on-going exhibitions and special events.
Rasputin Records
1820 Bascom Ave.
Campbell, CA 95008
(800) 350-8700
or visit the KALEID Gallery Cause page to donate on line (thanks to our fiscal receiver 1st ACT) click here.
Follow Scion x-CHANGE:
Facebook.com/scionxchange
Twitter.com/scionxchange
Follow KALEID Gallery:
Facebook.com/KALEIDgallery
Twitter.com/KALEIDgallery
SCION x-CHANGE PROGRAM — A NATIONAL NETWORK OF LOCAL NON-PROFITS, ARTISTS AND COMMUNITY SUPPORTERS IN 30 U.S. CITIES
Scion's 2010 National x-CHANGE Program Offers A $30,000 Match Donation For Arts Non-Profits
LOS ANGELES, Calif. —Launching May 4, 2010, the Scion x-CHANGE Program will visit 30 cities around the country with two-day public fundraising events built around a geometric installation by Damon Soule. The x-CHANGE program, now in its second year, is designed to harness the passion for preserving creative opportunities and elevate localized action into a national network of nonprofits, artists, retailers and activists.
The Scion x-CHANGE Program connects people to causes with the goal of raising financial support and awareness for arts-based nonprofit programs in their area. This support provides the necessary workspaces, materials, educational opportunities and support platforms to the artists who drive the cultural identity of a city.
In 2009, the Scion x-CHANGE Program raised over $30,000 for 39 nonprofits.
This year's program takes localized action to the next level by focusing on fundraising and establishing ongoing support and awareness for the x-CHANGE Non-Profit Network. For 2010, Scion will be matching event donations dollar-for-dollar up to $30,000.
"Scion is a brand that stands for independent thinking and originality," said Steve Hatanaka, Scion auto shows and special events manager. "The Scion x-CHANGE Program recognizes that brand awareness can be more than purchasing ad space. It can be a catalyst for community support and artistic expression."