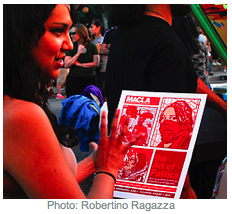 A Hands-On Printmaking Workshop with Melanie Cervantes and Jesus Barraza of Dignidad Rebelde July 24th @ MACLA
Learn the fine art of printmaking with artist-activists Jesus Barraza and Melanie Cervantes at MACLA. Don't miss the opportunity to work with these two fabulous artists featured in The Art of Politics: Three Generations of Political Printmaking in the Bay Area.
Jesus Barraza and Melanie Cervantes will kick the workshop off with a slideshow presentation that discusses the role of art and culture in community transformation and movement building. Participants will bring their ideas and passions to life by creating their own unique work of art.
Space is Limited - Sign Up Now!
Workshop is $30 per person with limited scholarships available. Please contact Felicia Salinas at felicia@maclaarteorg or call (408) 998-2808 to register.