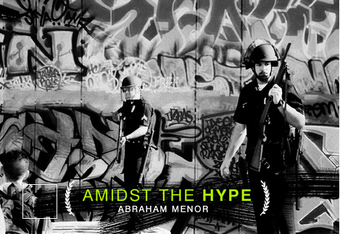 If you came out to the SubZERO Festival last Friday and came across the Street Swag Photo Booth you probably met and had your portrait taken by photographer Abe Menor.
His exhibition at Empire 7 this Friday is an excellent opportunity to see Abe's larger body of daily street journalism photos.

Abraham Menor Amidst the Hype
Meet this talented photographer in person and enjoy an evening of amazing work, music, food, friends and famiy.

Opening Reception: June 11 from 8pm-midnight
Music hyped by THATGIRL

Abraham Menor is a community organizer/worker and photographer based in San Jose, California. Menor graduated with a bachelorís degree in sociology from California State University at Hayward. When he is not working as a ďat-riskĒ youth case manager, he is armed with his camera, ready to capture the next fleeting moment. His love for the camera began in the late 90ís. His subject matter was initially graffiti. Menor sought to document the culture surrounding such an art form. Shortly thereafter, he developed a passion to document his daily interactions with people, places, and things. Menorís goal is to tell stories using his camera.
With a background in sociology and a love for photography, Menor realized that he can combine the two together. The result is photography that analyzes and examines human social behavior and society. In the past, he has documented various social and political movements such as the anti-war movement, the Filipino World War II Veterans Equity Movement, the Silence the Violence Day, and the Martin Luther King Jr. Freedom Train March. Menor also documents Hip Hop culture and the different sub-culture of the streets. These two cultures have greatly influenced the manner in which Menor captures and documents an image. As a participant and observer, Menor is able to capture moments that are fresh and raw yet honest and real.
Show duration: June 11-30, 2010

Empire Seven Studios
525 N 7th Street, San Jose, CA 95112
www.empiresevenstudios.com
Abe Menor website: www.brainsoiled.com