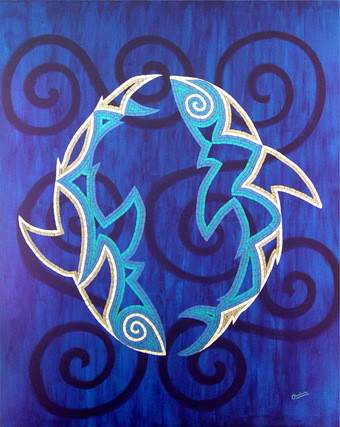 KALEID Gallery artist Mariana Barnes was selected by internationally exhibited eco-artist Kim Abeles for inclusion in "Blue Planet" an exhibition accompanying "Elements: An Eco-Art Conference" sponsored and organized by the Pacific Region Chapters of the Women's Caucus for Art (WCA).
270 submissions were received in a broad range of media from 117 artists throughout the United States. It was a time-consuming and difficult task for the juror, Kim Abeles, to evaluate submissions for this show. In the end, she selected a range of pieces that spoke of our precious element, water, and eco-art activism.
Artists' Reception: Saturday, June 26 from 5:00 to 7:00 pm
Eco-Artist Juror Kim Abeles will be there.
Selected Blue Planet Artists: Allison Adams, Carolyn Applegate, Salma Arastu, Mariana Barnes, Ulla Barr, Tessie Barrera-Scharaga, Rebecca Bauen, Helen L. Bellaver, Sukey Bryan, Mike Callaghan, Kimberley Campisano, Paola Coda, Joyce cutler-Shaw, Lynn Dau, Mary Lou Dauray, Inouk Demers, Cynthia Eddings, Danielle Eubank, Trish Foschi, Sarah Beth Goncarova, Sevilla Granger, Rachel X. Hobreigh, Teresa Hsu, Ann Isolde, Uma Rani Iyli, Katherine Hisako Kodama, Audrey Kral, Linda Kunik, Mariette Leufkens, Nalyne Lunati, Leora Lutz, Meg Madison, Maggie Malloy, Laura D. McHugh, Jean B. Mills, Barbara Milman, Arlene Ferley Monzon, Sandra Mueller, Brenda Oelbaum, Michele Ogilvie, Nora Raggio, Ally Richter, Anne W. Rosenfeld, Valerie Runningwolf, Elisa Salcedo, Pallavi Sharma, Diana B. Shore, Susan M. Sironi, Jennifer Kim Sohn, Virginia Stearns, Deborah Thomas, Leigh Toldi, Jillian Van Ness, Margi Weir, Sydney Zentall
Exhibition dates: June 19 - 26, 2010
Gallery Hours: Tuesday – Friday 12pm to 7pm, Saturday 12pm to 5pm
For more information visit: www.somarts.org or www.sbawca.org/events.html
SOMArts Cultural Center in San Francisco
934 Brannan Street
San Francisco, CA 94103