UPDATE: The awesome TBT Crew did it again with a great night of inspired speakers, artists and audience!
Special thanks to our guest speakers: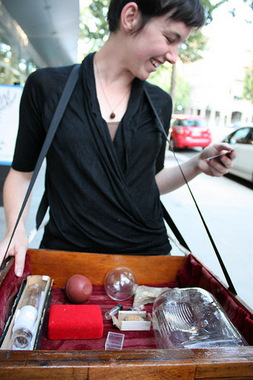 Stephanie Bailey
More TBT images here.
See you at the next Two Buck Tuesday July 20th!
--------------------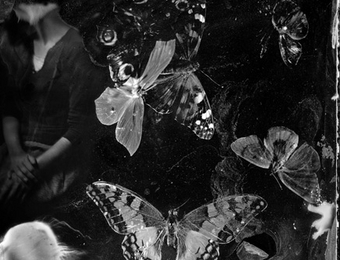 photo by Stephanie Bailey
TWO BUCK TUESDAY, June 15th 2010 6:30-9pm
$2 Art Sale and Quirky Speaker Series
This month at Two Buck Tuesday- a range of people who spend more time than you do with animals. In that sentence I'm counting "found objects" as an animal. ~this month's curator Kate Stewart
David Mejia was born and raised in San Jose, California and he loves to draw and make comic books. He works at the Martin Luther King Library and occasionally has the job of the library's mascot Conroy the Curious Cougar. David has created most of the art work for the library featuring Conroy (he also proposed to his wife in the Cougar suit.) You can see David's art work on view at KALEID Gallery.
Stephanie Bailey is a stiltwalker, ballet dancer, puppeteer and flautist. She travels the world as a museum photographer. Last summer, she spent two months at the Smithsonian Natural History Museum in Washington DC photographing their insects and prehistoric vegetation (she was also allowed to touch dinosaur bones!) Stephanie will demonstrate the process she uses to photograph tiny things, and show off the bugs the Smithsonian let her keep.
Zack Belanger will demonstrate his found object sculpting throughout the evening. "I consider myself a process artist, a materialist, and a futurist. I believe in intention and the ability to give and object a voice, a life, or a story. I ask my work questions and allow the process to show me the answers, my task is to perfect my ability to let go when necessary."
Sandy Sanjurjo talks about Seaskin, her upcoming KALEID feature exhibit benefiting the world's oceans.
Live drawing featuring Ashley Laidlaw and Justin Devine, Keith Bunnell throwing ceramics, and Arturo Rangel on the mic!
TWO BUCK Tuesdays is an all day $2 art sale and evening quirky speaker series that happens on the 3rd Tuesday of the month.
See past events- flickr.com/photos/phantomgalleries
KALEID Gallery
88 So. 4th St. (btwn Santa Clara & San Fernando)
Downtown San Jose, CA 95112?
www.KALEIDgallery.com? 408.947.1785
Facebook: www.facebook.com/kaleidgallery
Twitter: http://www.twitter.com/KALEIDgallery
Parking: street metered parking (free after 6pm) or 4th St. Garage (@San Fernando) $3 after 6pm.