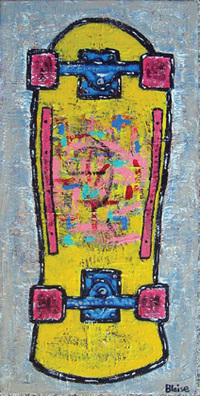 Iconic Urbanity-symbols of a concrete culture paintings by Blaise Rosenthal
Blaise Rosenthal's heavily textured paintings aesthetically evoke and capture the emotion and vibrancy of metropolitan existence from the perspective of his New York origins and skateboarding cultural roots.
Artist's Reception First Friday May 7th, 8pm 'til late
(Part of the South First Fridays monthly art walk.)
Exhibition on view through May 29, 2010.
Good Karma Vegan Cafe
37 South First Street
San Jose, CA