Two of San Jose's non-profit art organizations are having fund raising auctions this month. Both MACLA and WORKS will have previews of their auction offerings at this May 7th First Friday art walk.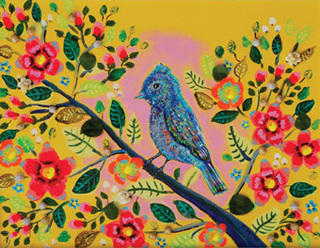 Image credit: Elizabeth Gomez, Titmouse with Pom-Poms,
Mixed media, acrylic and glitter, 2010. Photo: Robertino Ragazza

MACLA's 12th Annual Latino Art Auction Reception- View the very best of contemporary Latino art from the Bay Area and beyond. Over 60 artists have generously donated a vast array of paintings, prints, photographs and sculpture available for purchase. Auction proceeds support MACLA's programs in the visual arts, performing & literary arts, youth arts education; and community development through the arts, which reach over 30,000 people annually.
Live Auction: Saturday, May 15, @ 7:00pm

MACLA
510 South First Street
San Jose, CA
----------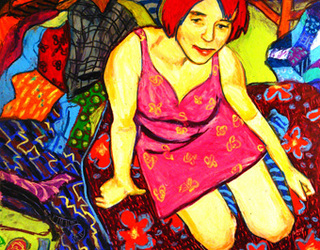 art by Lacey Bryant, Minutes Disappear When You're Not Looking, oil pastel, 2010

Works' Benefit Auction Preview Reception- The South Bay's most accessible art auction moves to Spring! The work of almost 100 regional artists including Lacey Bryant, Tony Castro, Christopher Elliman, Diane Levinson, Francesca Lovecchio, Ken Matsumoto, Tony May, Therese May, Angelica Muro, Carlos Perez, Valerie Raps, Fanny Retsek, and Joe Saxe, to name just a few of the array of outstanding donating artists, will be on view to preview the May 22 auction. Support your community art and performance center and experience the wide range of art from our region.
Works San Jose
451 South First Street
San Jose, CA
----------
There's also the Anne & Mark Art Party 2010 fundraiser which showcases over 100 local artists and musicians in a fundraiser for the Arts Council Silicon Valley. There's also an opportunity to purchase art directly from participating artists at this show.
May 8, 2010
215 East Alma Avenue, San Jose
(behind Smurfit Stone Recycling)
Patrons Suggested Donation: $50 from 6:30pm on
General Admission Suggested Donation: $25 from 8pm on
Visit their website for more information and to RSVP: http://www.artparty2010.com