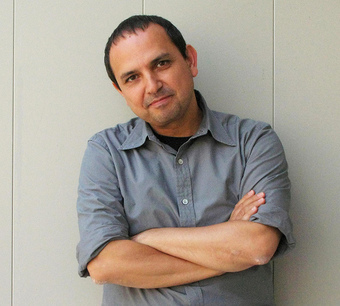 MACLA's Luncheon in Celebration of our Latino Art Auction Exhibition
Friday, April 30th, 12-1:30pm
The keynote this year is architect Teddy Cruz, one of the most dynamic speakers of our times whose work has focused on the politics of space and urban planning, especially as it relates to the US/Mexico Border. MACLA is commissioning new work by Teddy Cruz that will premier at our upcoming Zero1 Exhibition in September 2010. Welcoming remarks provided by Sam Liccardo, San Jose District 3 Councilmember and David Figuero Ortega, Counsel General of Mexico in San Jose.
Teddy Cruz studies informal architecture in Tijuana and the place-making of immigrants in San Diego suburbs in order to adapt the creativity and resourcefulness of informal architecture to more official design practices. Teddy Cruz is an Associate Professor in public culture and urbanism in the Visual Arts Department at the University of California, San Diego. In addition to teaching at UCSD, Teddy Cruz is the principal of Estudio Cruz, a San Diego-based architectural firm. He obtained a Masters in Design Studies from Harvard University, the Rome Prize in Architecture form the American Academy in Rome and received the 2004-05 James Stirling Memorial Lecture on the City Prize.

New York Times articles on the work of Teddy Cruz:

Learning from Tijuana: Hudson, NY, Considers Different Housing Model, February 19, 2008

Shantytowns as a New Suburban Ideal, March 12, 2006
Luncheon Tickets are $35/person or $350 for a table of ten.
Call (408)998-2808 to purchase tickets by Monday, April 26.

Save the Date: MACLA's 12th Annual Latino Art Auction - Saturday, May 15, doors open at 6pm, live auction begins at 7:30pm.