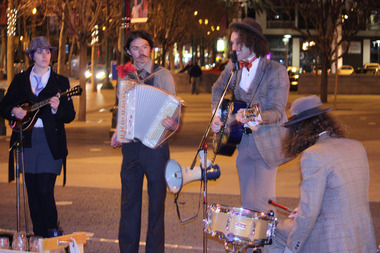 UPDATE: Congratulations to Corpus Callosum! Their new album was 100% funded!
If you've ever seen Corpus Callosum at KALEID Gallery, Anno Domini, Barefoot Coffee, or on a street corner in downtown San Jose on a summer's night, you know this band has the heart of true artists. They've given their time and talents for the love of performing to all of us here in San Jose and they're currently raising money to complete their upcoming album. They are 67% of the way there, together we can help them go all the way.
Please visit their Kickstarter page and view the video and if you like what you see and hear, pitch in a few bucks and know that you made it happen!
http://www.kickstarter.com/projects/1800285815/corpus-callosum
Corpus Callosum is an effort to create dynamic, finely crafted songs, both heady and theatrical, using do-it-yourself means. The band credits influence from American roots music, gamelan, early industrial and noise and western classical. They draw upon the sounds of Neutral Milk Hotel, The Velvet Underground, Tom Waits and Einstürzende Neubauten, among others, to generate a unique soundscape.
Songwriters Avery Burke and Dax Tran-Caffee collaborate with musicians Stevie Hryciw, Zach Michels, Qarly Canant, Andrea Craver, and Jason Samaha. This ensemble composes songs using traditional instruments such as accordion, reed organ, banjo, glockenspiel, mandolin and guitar; more obscure instruments like the singing saw, theremin, wash bucket bass and glass goblets and common objects such as pots and pans, pickaxes, children's toys, a kitchen blender and sheet metal. As much performance art as music, a Corpus Callosum concert showcases an array of puppetry, stilt-walking, kinetic sculpture, and other uncanny imagery to complement and embellish the sound.
Check out this video of Lullaby #2 by Corpus Callosum: http://www.youtube.com/watch?v=52t8N_OLg0I