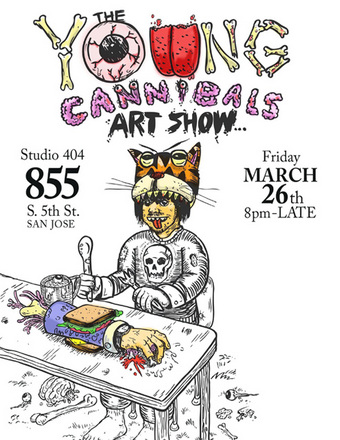 The show's aim is to bring notice to two of San Jose's longest standing studios- the Citadel & the Cannery, which possess a unique artist sub-culture in San Jose's Martha's Garden.

The show uniquely pairs co-curators April Gee, who spent a short stint at the Artist Guild Mansion before recently starting a community-centered studio at the Citadel, and Phil Tiger, better known as the phantom of the Citadel, a very talented "him against the world" artist who was educated at the Art Center in Pasadena.

Visual Artists include" Jaclyn Alderete, Ben Alexy, Osvaldo Baron, Michael Borja, Michael Buscemi, Gabriel Coke, Michael Denning, Christopher Elliman, April Nat Gee, Jenny Jigour, Miguel Machuga, Santino Majok, Trina Merry, Omar Morineau, Rod Santos, Courney Thiesen & Freddy Vega.

Musicians include: David Knight, Gianfranco Paolozzi, Amy Israels, Constrained Randomness, God Intoxicated & DJ Rob Riddle.

All artists will be painted in tribal face paint by Tiger and Merry, then photographed by Tinh Le.

There will be a book signing by Robyn Boyd, author of Rawsome Receipes & free raw foods for all.
YOUNG CANNIBALS Art Show at the Citadel (in the "Garden Studio" #404)
855 South 5th Street, San Jose
Friday, March 26th from 8pm-Late.
Free and open to all.