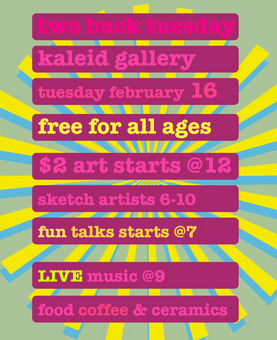 TWO BUCK Tuesday, curated by Matthew Bailey Seigel
Tuesday, February 16, 2010
family friendly free for all ages
$2 ART SALE starts @12pm
FUN TALKS start @7pm featuring:
Chef Patti Searle is a professional chef, caterer, and owner of Thrivin' Edibles, a 100% vegan food enterprise. Raw vegan food is her passion, both as a creator and a consumer and she will be giving a talk called, "Super Foods? How about Foods that are Super?" She'll include hints on how to prepare these everyday GIANTS in the fruit and vegetable world. Arrive on time at Two Buck Tuesday as Patti will get the evening started at 7pm. Oh, and she is bringing samples of her world-famous HuuRaw chips! ?thrivinedibles.com
Gary Coleman, oil and pastel painter, will explore artistic priorities. LIKE: Does painting to sell have to mean selling out? If it does (just a little), does the artist hoard his/her own work? Is it selling out to paint for recognition and respect? Is fun more fun than suffering? Is it necessary to continue to "build a body of work", or is it OK to move on to something else when the body seems to be getting old? Gary will show some of his own work to illustrate his own decisions. He is over 70 years old, and so you should listen to and respect his wisdom.? garycolemanartist.com
Lisa Fisher-Mejia has been performing bellydance in the Bay Area for the past 5 years. She has also performed in Seattle and Los Angeles. She sews a lot of her own costumes. She likes to experiment with a fusion of dance forms, including gothic, tribal, East Indian, and Burlesque. At KALEID, she'll be performing the standard Cabaret style bellydance taught to her by her Mother (who was a bellydancer in the 1970s).? myspace.com/staribun

SKETCH ARTISTS 6-10pm featuring:
?Gary Coleman (read above)
M.P. Nothing, you may know him as Mo from barefoot coffee, now you will also know him for his graffiti & graphic novel inspired art, and perhaps his friend Jeff will attend as well.
Emonic's artwork has been featured all throughout the west coast in various shows and events. He currently works as freelance illustrator in addition to working on his own personal projects. You can see his work at www.emonic.net
Chemix is relatively new to the art world; while he has focused mostly on collaborating on projects and managing his brother Emonic for the last 3 1/2 years, he has only recently started his foray in actively creating work and hopes to expand and learn along the way.
Carol Ponsaran is an artist and teacher. carolponsaran.com
Mahoney Perkins draws zines, prints and publishes. jwlk.com
Chuck Hepburn, descended from Mary, Queen of Scots, and yes, related to (and met) Katherine Hepburn. He was physicist on the Mars lander mission. And he opened for Beck in Las Vegas. However for us, he will be modeling for the sketch artists, dressed as a cowboy, playing guitar! as he too is a professional model!
Also ALL artists are invited to bring their art supplies, and take a place at the sketch table! Space is first come first serve.

LIVE MUSIC @9pm featuring:
Matt Geddes solo live blues act www.musicalcarrion.com

FOOD, COFFEE & CERAMICS featuring:
Chef Patti is bringing samples of her world-famous HuuRaw chips!
?
Red Berry Coffee Bar, artisan roasted, single origin coffees, are on location to serve and explain their selection and vision. redberrycoffeebar.com
?Keith Bunnell will demonstrate his ceramics all evening in front of KALEID. He has been throwing for almost 5 years now and is currently going to Foothill college to get his major in art. He mostly does Raku firing but he has been experimenting with Soda firing as well. twitter.com/ithrowthings

TWO BUCK Tuesdays is an all day $2 art sale and evening quirky speaker series that happens on the 3rd Tuesday of the month.
See past events- flickr.com/photos/phantomgalleries
KALEID Gallery
?88 So. 4th St. (btwn Santa Clara & San Fernando)
Downtown San Jose, CA 95112?
www.KALEIDgallery.com?
408.947.1785
Facebook: www.facebook.com/kaleidgallery
Twitter: www.twitter.com/KALEIDgallery
Parking: street metered parking (free after 6pm) or 4th St. Garage (@San Fernando) $3 after 6pm.