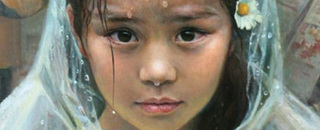 The Art of Truth, Compassion, Tolerance
curated by David Zhang
This traveling exhibition has been shown in more than 40 countries and over 200 cities worldwide. Last year a preview was held at the San Jose City Hall Rotunda. The show features oil paintings by 12 artists including: Kunlun Zhang, Xiaoping Chen, Yuan Li, Kathleen Gillis, and Xiqiang Dong whose art portrays the experiences, visions, and hope of Falun Dafa followers as they attempt to safeguard justice and peace while upholding their values in truthfulness, compassion, and tolerance. An inspiring exhibition not to be missed!
For more information please visit the web site at: www.FalunArt.org
Opening reception: Friday, March 5th 6 -9pm
Part of the South FIRST FRIDAYS monthly art walk. Free shuttle service to the Art Ark Gallery every 15 minutes between
5:45 - 9:15pm in front of the Miami Beach Club
Exhibition dates: March 5th - March 28th
Gallery Hours: Friday - Sunday 10am - 9pm
Art Ark Gallery
1035 S. 6th St
San Jose, CA 95112
www.ArtArkGallery.net