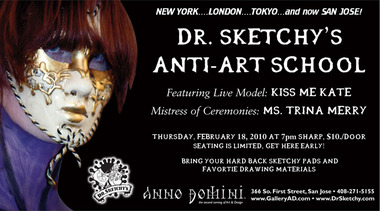 Calling All ART MONKEYS!
Anno Domini is proud to announce that that it is an official chapter of DR. SKETCHY'S ANTI-ART SCHOOL!
Dr. Sketchy's is the world's premier alternative drawing movement. Every month, over 3,500 artists gather in nearly a hundred cities (including New York, Hollywood, Sao Paolo, London, Rome, Paris, Tokyo, and Melbourne) to sketch glamorous, subcultural models and compete in drawing contests in an atmosphere of artistic mayhem.
Dr. Sketchy's was started in December 2005 by a 22 year old art school dropout in a dive bar in Brooklyn (Miss Molly Crabapple). An artist and former model, Molly has created an alternative to the dull drawing classes she had posed for and now Dr. Sketchy's has exploded into an international phenomenon. http://www.DrSketchy.com
"If art class had been this cool growing up, 90 percent of Americans might be painters instead of lawyers and presidential candidates." ~New York Post
Join us for the inaugural launch of Dr. Sketchy's San Jose at Anno Domini Gallery!
Featuring Live Model: Kiss Me KATE
Mistress of Ceremonies: Trina Merry
Thursday, February 18th at 7pm. Come early as seating is limited!
$10.00/Door Bring your sketchy pads and favorite drawing materials.
Special thanks to Mistress Trina Merry & Master Drew Clark, our resident MCs!

Anno Domini // the second coming of Art & Design
366 South First Street, San Jose, CA 95113
www.galleryAD.com 408.271.5155