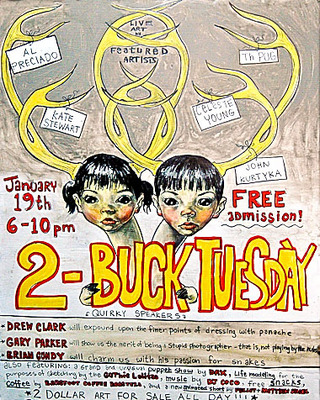 This edition of TWO BUCK TUESDAY is curated by Lacey Bryant.
January 19th, 6-10 pm
Free admission
Featuring our Quirky Speaker Series:
Drew Clark: A charismatic artist who will expound upon the finer points of dressing with panache and how it's totally worth the discomfort involved.
Brian Gundy: The owner of For Goodness Snakes will discuss how his passion for animals helped to build his business. Brian has been a local professional snake breeder for over 20 years. His love for people and education now finds him sharing his cold blooded friends at schools, birthday parties and company events.
Gary Parker: After over 40 years of experience, Gary will teach us the merit of being a stupid photographer-that is, not playing by the rules and still getting great shots!
Also Featuring:
A Grand and Unusual Puppet show by Dax
Dax's show is original songs on accordion and wine glasses in an american folk style, paired with three short puppetry pieces that unfold from three plywood suitcases. The theme of the puppet shows is of making something out of nothing, and are on the more experimental side of the craft. He has been performing shows on the west coast since 2001 with Corpus Callosum. From 2007-2008 he performed puppetry with the renowned Chicago Blair Thomas & Co. Chamber Puppet Theater.
"As with his songs, there is no showmanship, legerdemain, pretense or fanfare in the presentation of this non-traditional puppetry. On stage, Dax has a deceptively casual manner – meanwhile, glowing stars pop out of suitcases of their own accord, and apparitions rise out of heaps of cardboard and collapse just as quickly. Nothing is hidden in the straight-forward construction of the puppets and apparatuses, and yet each piece unfolds a moment of magic that is as moving as it is direct. These shows cleverly present the fascination that has been lost to us since childhood, though you wouldn't imagine how simply it was achieved." -Blair Thomas, Artistic Director of Blair Thomas & Co. Chamber Puppet Theater, founder of Redmoon Theater, Chicago, IL.
Music by DJ Coco
Life Modeling for the purposes of sketching by the Gothic Lolitas of San Jose
The unveiling of A Mystery New Animated Short Film by Matthew Seigel and Pellet
Feautured Live Sketch Artists:
Kate Stewart
T.h. Pug
John Kurtyaka
Al Preciado
Celeste Young
All artists are invited to bring their art supplies and take a place at the sketch table! Space is first come first serve.
Free cupcakes and snacks, coffee by Red Berry Coffee Bar!
And of course, $2 art for sale all day long!
KALEID Gallery
88 South Fourth Street
Downtown San Jose, CA
www.KALEIDgallery.com
408-947-1785