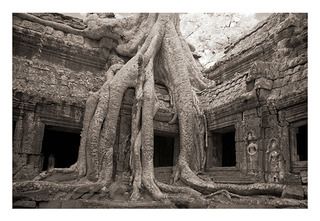 Impermanence photography exhibit by Noa Grant at Soula Power Yoga
"Contemplating the (in)significance of life, flirting with the idea of our very own temporality, coming to terms with the notion of mortality, this portfolio is my reflection on the nature of our very existence. As we journey through life, making a temporary dents in our surrounding, our impact is diminished, and our monumental existence, whether thru the temples we build, the art we create or via our simple daily acts, is starting to crumble and decay as soon as we accomplish them.
Remnants of past grandeur photographed in Angkor, Cambodia, serve as my metaphoric evidence of this notion. The monumental temples are devolving towards nothingness, while the fungi and trees are evolving from nothingness, in a constant dance toward or away from potential. There is poetic beauty to be found in both processes, and existence may only be a tender dent in a reed, or an ephemeral memory." ~ Noa Grant
About the artist
Noa started exploring photography in 2006, supplementing her natural curiosity with formal classes and workshop at Foothill College. Her fine art work addresses philosophical issues while paying attention to the natural beauty of form and patterns. Much of her study through the lens comes from her extensive travel throughout the world. Her current work includes infrared landscapes and explorations of the human figure. She has previously shown her work at PhotoCentral in Hayward and at the KCI center in Los Altos Hills.
On view through February 24, 2010
Soula Power Yoga
200 S. First Street, Suite 70
San Jose, CA 95113
Please call for hours: 408-993-YOGA (9642)