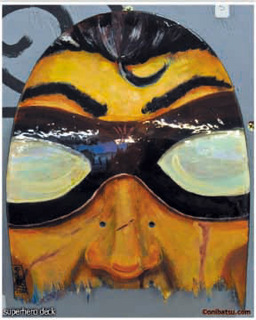 THURSDAY GIG'S Art & The Spoken Word presents:
Artist Michael Foley
Poet Bea Garth
Open Mic follows
Thursday, November 19, 2009, 6:30 - 9:00 pm
STONE GRIFFIN GALLERY
411 E. Campbell Ave., Campbell (map)
This is a Pot Luck BYOB, Soft Drinks, Water event
Donations of $1 would be appreciated
(If you can't bring food or donate, come anyway : )
Contact Elizabeth Parashis at artpages@earthlink.net for more info.
Michael Foley is an artist from the San Francisco bay area. A native of california, who has grown up in environments of varied cultures and social classes. The product of living in what has been coined "the Melting pot of civilization".
Growing up in multicultural environements has greatly benefitted the man and his work. Growing up a part of so many vastly different cultures and social sub cultures has exposed him to so many vastly different views of the world. Encouraging him to leave and remain overseas for some time before returning back the wonderful variety that is the San Francisco Bay area.
Many of his works deal with different specific themes. Some regarding social issues important to the man, regardless if society is ready to face them. Themes of identity and culture, and their potential loss. The dangers of capitalism and consumerism run amok. Even challenging the notions of Image beauty and bringing forth the detrimental effects it can cause. However, as his work is varied, so are the themes he works on. He does make happy, cute little things as well :)
His work has been categorized as urban art, even low brow art to some traditional galleries. Trying to label something that is uncontrolled and ever changing proves futile; he loves to keep people guessing, to use their own imagination to come up with their own opinions. If you ask him, he'll simply tell you it's existential.
Michael is completely self-taught in all mediums, regardless of digital or analogue realms. One who continually strives to learn more and add to his craft.

He has shown in various galleries and private exhibits in the US and abroad.
Bea Garth brings us into her world with poetry reminiscent of Hemingway's conversational style intertwined with the mythic and archetypal. One wants to be by a cozy fire and spend hours and hours with poems that could string together into an epic work, piecing together a life ventured into and explored; a life that makes us wish we had done thus and so even if it hurts even if it sings, just to have those moments that you know weren't blank pages in a journal you were given and never got around to using. Her art reflects the intricate pathway of a life not to be pushed, not to be hurried, not to have missed the roses.
Her lyrical awareness reflects a deep love of imagery and narrative coupled with a mythic awareness.