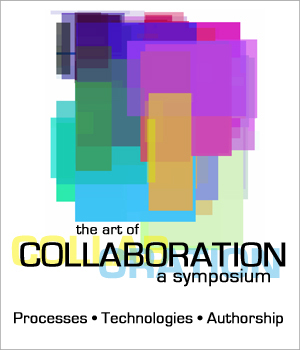 The Art of Collaboration
Processes • Technologies • Authorship
Hosted by the Digital Arts and New Media MFA Program at the new Digital Arts Research Center (DARC), UC Santa Cruz
Location: The Media Lab, in UCSC's New Digital Arts Research Center (DARC), located between the Music Recital Hall and Baskin Visual Arts on West Campus, UC Santa Cruz.
Dates: Thursday October 22, 4:30pm-7:30pm
Friday October 23, 9:30am-7:30pm
Join more than twenty scholars, artists, filmmakers, game designers and theorists as they come together to discuss the meanings and cultural aspirations associated with collaboration, including non-hierarchical production, shared authorship, cross-disciplinary and trans-cultural approaches to research. By exploring the complexities of collaboration, this symposium challenges overdependence on intellectual individuality in favor of the non-territorial, collective, dialogic, participatory and relational.
Keynote Address:
"Enclosure Acts: Collaborative Practice in an Indian Village"
Grant Kester, Chair and Associate Professor of Art History in the Visual Arts Department at UC San Diego
Special Lecture co-presented with the UCSC Foundation Forum:
"Creativity: What I Don't Know and What I Know"
Dr. Ed Catmull, co-founder of Pixar and president of Pixar and Disney Animation Studios
In three panel discussions, collaborative work will be considered as an alternative to the notion of individual authorship in intellectual and creative endeavors. Participants include:
Joline Blais Dee - Hibbert-Jones - E.G. Crichton - Marsha Kinder - Sharon Daniel - John Jota Leaños - Claudia Eipeldauer of WochenKlausur - Chip Lord - Sean Fletcher & Isabel Reichert - Michael Mateas - Jennifer A. González - Susana Ruiz - Melissa Gwyn - Warren Sack - Bassam Haddad - Gustavo Vazquez - David Evan Harris - Noah Wardrip-Fruin - Jon Ippolito
The event also includes artistic presentations of collaborative works of art by students and faculty, as well as a joint reception with Sesnon Gallery (Porter College) to celebrate Full Disclosure, an exhibition featuring collaborative projects by UCSC arts and science faculty and lab researchers.
This event is free and open to the public.
For more information and registration, click here.
Organized by Margaret Morse and B. Ruby Rich and coordinated by Soraya Murray, this symposium is sponsored by UCSC Arts Division, UCSC Digital Arts and New Media MFA Program, the Porter Festival Grant, the Arts Research Institute, the Academic Senate Committee on Research (COR), the Center for Art and Visual Studies (CAVS), the UC Santa Cruz Foundation and Awake Media.