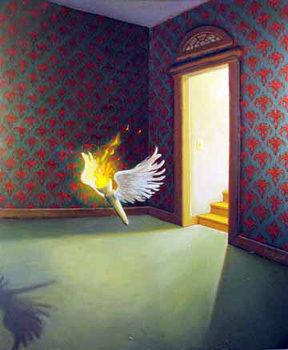 Tim Larsen, The Pilot Light, 2009, oil on canvas, 24 x 18 inches
THURSDAY GIG'S Art & The Spoken Word Thursday Sept. 17th:
Featured Artist Tim Larsen
Tim gets up at 3am every weekday morning, working as a package handler for UPS part time. If you ever wondered how the packages get in the trucks, that's how it happens. At other times he has done work as a picture framer, web designer, and freelance comic book artist.
Tim paints in a slightly surreal style that is rooted on old world myth and magic. His imagery contains a certain degree of light, space, playfulness and soft statement. His compositions are a bit theatrical, like the setting of a stage at the moment where something is about to happen.
Featured Poet Evelyn A. So
Evelyn is a native of New Jersey. Her poetry and nonfiction appear in Reed Magazine and Caesura, the anthology Mutanabbi Street Starts Here, and other publications. She has been invited to read at Poetry First!, the First Annual Legacy of Poetry Day at SJSU, Walt Whitman's "Song of Myself," and Four Minutes of Mayhem. She has been a featured reader at Thursday Gig and The Overpass Gallery, and on the cable T.V. show "Live Poets Society" with Robin Somers. Evelyn is a M.F.A. student in creative writing at SJSU and was a finalist for the Edwin Markham Poetry Prize. She previously earned a M.S. in library and information science from University of Illinois at Urbana-Champaign. She teaches poetry at Saratoga High School.
Open Mic follows
Thursday, September 17, 2009
6:30 - 9:30 pm
STONE GRIFFIN GALLERY
411 E. Campbell Ave., Campbell
This is a Pot Luck BYOB, Soft Drinks, Water event
Donations of $1 would be appreciated
(If you can't bring food or donate, come anyway.)
For more info and/or directions contact: Elizabeth Parashis - artpages@earthlink.net