Christine Benjamin has curated Monsters, Mayhem & More A Psycho Halloween Extravaganza! A collision between crazy donuts, a special original art show focused on local artists and original Monster works, in conjunction with live music.
(Christine was recently featured in an article in the San Jose State University's Washington Square Magazine. You can read it here.)
Mark your calendar and plan to join in on the fun on Saturday, October 3rd from 10AM to 2PM!
Artists:
Carlos Villez
Christine Benjamin
Chuck Hodi
Dave Higgins
Lacey Bryant
Mary Medrano
Michael Foley
Murphy Adams
Nicolas Caesar
Tracy Cox
Trina Merry
Psycho Donuts
2006 S. Winchester Blvd. on the corner of Campbell Ave.
Campbell, CA 95008
408-378-4540
http://www.psycho-donuts.com/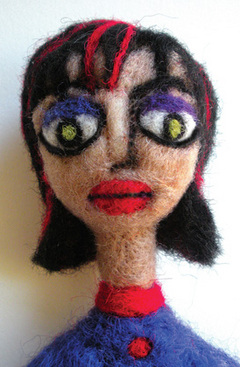 With all that going on, Christine is never too busy to share her talents! She'll be one of the speakers at the September 15th TWO BUCK Tuesdays in which she'll demonstrate how she creates her creatures in 3D with needle felting. For full event line up, click here.