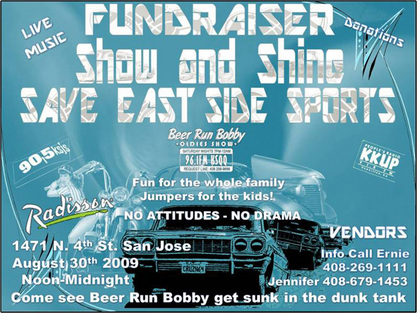 Car Show & Shine -Art Exhibit - Music Festival to benefit the San Jose East Side Sports Programs.
San Jose East Side Sport Programs are in financial difficulty. Currently East Side Union High School District is requesting that each student must donate $200.00 to participate in a normally free After School Sport Program. Beyond that, EYAC-Evergreen-East Hills-sports programs have plenty of children that want to play but are financially unable to contribute.
This event, and others soon to follow, will donate scholarships to the local East Side San Jose high school sport programs and San Jose East Side sport programs in the surrounding East San Jose Area.
Save East Side Sports is currently looking for Artist to display and sell their artwork at this event. Save East Side Sports is asking for a Donation of 1% of artwork sold at the event. The reason for 1% is to have artist participation and creativity in this free family friendly community event.
All interested Artists will be provided tables and chairs and plenty of space to display all artwork. Unfortunately due to finances Save East Side Sports will not be able to provide easles or backdrops. Save East Side Sports is asking all artist display artwork from 12noon to 6pm.
If you are interested in supporting this event or need more information, please call Ernest Austin at 408-269-1111 or email eaustin408@sbcglobal.net
Event takes place on August 30th, 2009 at THE RADISSON HOTEL
1471 N. 4th St. SJ, CA 95112
Family Friendly Event 12:00 Noon-12:00 Midnight