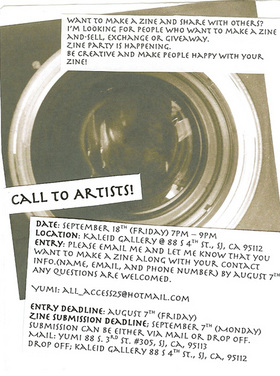 ZINE PARTY! Call For Zines
Want to make a zine and share it with others?
Yumi is looking for people who want to make a zine to sell, exchange or giveaway at ZINE PARTY to be held at KALEID Gallery on September 18th, 7pm-9pm.
Be creative and make people happy with your zine!
Entry: Email Yumi at all_access25@hotmail.com your contact information (name, email, and phone number) by Friday, August 7th. More details will be sent to you via email.

Entry deadline: Friday, August 7th
Zine submission deadline: Monday, September 7th
ZINE PARTY: Friday, September 18th
Yumi's contact info: all_access25@hotmail.com