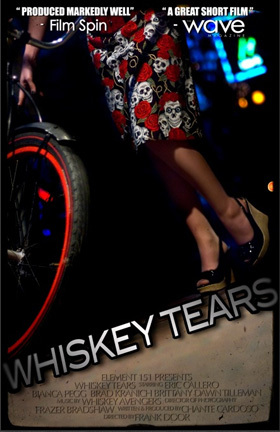 This Wednesday night, July 22nd in the SoFA District
Prior to the main feature film Romeo + Juliet, Starlight Cinemas will be screening the short film WHISKEY TEARS by San Jose's Element 151 Films - A Ragtag Rockabilly Crew shows us the right way to waste time, and the long way to growing up. From local San Jose Director Frank Door - including soundtrack by local band The Whiskey Avengers.
Romeo + Juliet (1996/ Rated PG/ 120 min.) Directed by Baz Luhrmann: Although set in modern times in the city of Verona Beach, it is still the same timeless, classic story of Shakespeare's Romeo and Juliet. The Montagues and Capulets are two feuding families, whose children meet and fall in love. They have to hide their love from the world because they know that their parents will not allow them to be together.
Pre-movie entertainment also includes Heroes Martial Arts showcasing Brazilian Jiu Jitsu, Judo, and Wrestling.
Time: starts at Dusk
Location: Poly Cleaners parking lot on Williams Street, between South First and Market streets, SoFA District