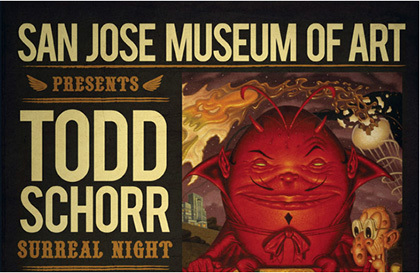 Surreal Night at the San Jose Museum of Art is an impressive mid-career retrospective of Todd Schorr's contribution to the "Pop Surrealism" scene (of which the likes of Camille Rose Garcia, Mark Ryden and Gary Baseman are members.)
On Thursday, July 16th, 7-10pm you can meet Todd and attend a panel discussion (7:30pm). This Hi-Fructose sponsored event also includes a book signing, sounds by Streetlight Records and specialty cocktails.
Free to members, $8 for non-members.
San Jose Museum of Art
110 South Market Street
San Jose, CA