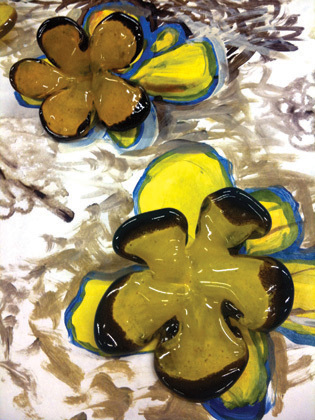 KALEID Gallery presents TANGLE: wandering off trail by Janett Peace and Matthew Bailey Seigel.
Matthew Bailey Seigel's new paintings are a reinvention of the Japanese scroll in modern materials. And like their Muromachi era (1336-1537) counterparts, his themes are of local plants, flowers and animals. But unlike traditional kakejiku (hung scrolls), Matthew's are less formal, and more of a tangled log of his wanderings off trail.
Inspired by Matthew's view of nature, Janett Peace has created a series of glass pieces in response. She evokes Matthew's style in 3D while adding a luminous quality only possible with glass. While her interpretations are meant as a tribute to Matthew's eye for color and composition, she further explores drawing in glass using techniques that give her work a painterly quality.
Artists' Reception: First Friday, August 7th, 7-9pm
This event is part of the South FIRST FRIDAYS art walk in downtown San Jose. Free and open to the public.
Exhibition on view through August 28, 2009.
KALEID Gallery
88 South Fourth Street
downtown San Jose
408-947-1785
Gallery Hours:
Tuesday thru Friday, Noon - 7pm
Saturday Noon - 5pm
First Fridays til 9pm