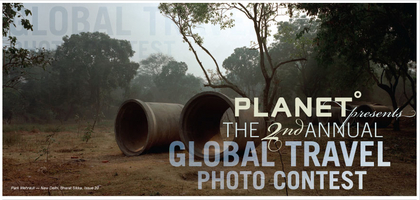 We know we have world class photographers amongst us, good luck!
PLANET is the first and leading contemporary global culture magazine blending the latest in art, music and fashion with coverage of distant cultures, unique travel experiences, and environmental awareness. Since our launch in 2001, PLANET has become known for its outstanding photography, shot by many of today's top photographic talents, from dynamic up-and-comers to great masters and enduring legends.
PLANET's photo contest offers photographers from around the world a unique opportunity to share their vision of travel, life, people, and sub-culture with our top editors and a distinguished panel of judges culled from the highest levels of New York's international photography community.
Best of all, the Grand Prize winners will receive a round-the-world ticket (or $1,000) with a portfolio assignment covering your trip.
Two runner-ups per category will each receive a liveBooks PJ portfolio website (basic web package or $500 toward any liveBooks website package or upgrade.) and a portfolio of their work published by PLANET in 2010.
Ten finalists will have their work appear in a special contest portfolio.
Our ongoing theme is 'Many Worlds, One Planet', and we'd like to ask photographers to not only capture defining images of a particular place but to also consider the people, lifestyles, and sub-cultures of the places they document; a powerful portrait or image of a gathering can equally reveal the depth and mystery of the travel experience.
Please visit the Global Travel Contest page for more information, judges and entry form: http://www.planet-mag.com/photocontest/