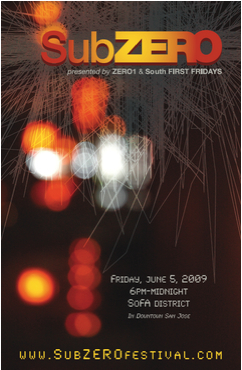 Presented by ZERO1 and South FIRST FRIDAYS
Kick off summer with the 2nd Annual SubZERO Festival, a diy, artistically bent, hi/lo-techno-mashup where street meets geek. From 6pm 'til midnight between San Carlos and Reed Street, you'll find two stages of entertainment plus 100 artists, performers, and musicians celebrating the indie creative spirit. Test-drive a custom low-rider bike, try your hands at stop motion, bear witness to urban yarn-bombing, travel back to the future for a nineties-look at cyber fashion, watch a little subversive TV and listen up for spontaneous acts of percussion.
And be sure to check out the SoFA galleries with shows to complement the revelries outside. Participating galleries include: Anno Domini, MACLA/Movimiento de Arte y Cultura Latino Americana, San Jose Institute of Contemporary Art, San Jose Museum of Quilts & Textiles, and WORKS/San José. For full gallery exhibition schedule, visit: http://www.SouthFIRSTFRIDAYS.com
Participating artists, musicians, performers and indie vendors:
Pilar Aguero, Jared Aizawa, ARMOgedon 2057, Thomas Asmuth, Barefoot Coffee Roasting, Baron Zen, John Behrens, JD Beltran and Scott Minneman, Beyond Wonderland, Black & Brown Clothing, Blue Planet Run Foundation, Christina Braun, Michael Brown, Lacey Bryant, Jason Challis, Jason Chayabyab, Nicole Camarillo, Charcoal Addict, Chcknfsh, John Cloud, CONTENT Magazine, Steve Cooley, Cukui Apparel, Endika Currier (Panthelion), Dave Dexter, Dive!, DeathMatch (organics vs electronics), Divine Orchid Clothing, DJ Cutso (Bangerz), DJs Raj Pall and Kyle Boeker, Steve Durie, Jessica Eastburn, El Muertorider (John Jota Leaños, Shawn Levvon Nash and Artemio Rodríguez), el PeepShow, Keith Bunnell, Evolution Control Committee, Michael Foley, Force 129 Art & Design, Free the Robots, DJs Goldynchyld and Teeko, Sarah Beth Goncarova, Good Hustle, Andy Gouveia, Michela-Rivera Gravage, Lydia Greer, Fabiola Hanna, Drew Clark, Haptic Snaptics, Margaretha Anne Haughwout, Heart of Chaos, Andrew Hedges, Henna Tattoos by Evelyn, ICA Rejection Dunk Tank, ICA T-shirt Boutique & Emporium, IR pens, James Moore Photography, Jim Dandy's, Charles Johnson (aka QORSER), M dot Strange, Marnia Johnston, Jono Kane (aka Noka), Judgement Day, Michele Langos, John Leanos, Montalvo's Youth Action Coalition, Necessary Voodoo, Opera San Jose, Rachelle-Ann Palacios, Joel Patrick, Pellet, Mahoney Perkins, Nelda Perez, Al Preciado, Quite Contrary Productions Inc., Nora Raggio, Kedar Reddy, Mark Resch, Linda Ritter, Dina Ropele, Ruffin Raw Visions, San Jose Glass Artist Alliance, Derek Scott (aka the Rhythmist), San Jose Yarn Bombers, SHARE San Jose, Tristan Shone, Shorty Fatz, Silicon Valley De-Bug, SJFixed, Slave Labor Graphics, STREET SWAG Photo Booth, Corinne Okada Takara
Date/Time: Friday June 5th, 6pm - midnight
Location: South First Street, from San Carlos to Reed streets
downtown San Jose
For full SubZERO line up and schedule visit: http://www.SubZEROfestival.com
Follow Twitter updates at: @subzerofestival (hashtag #subzero09 )
Bring your camera and upload your best photos of the night to: http://www.flickr.com/groups/subzero/pool/
------------
About South FIRST FRIDAYS
South First FRIDAYS is an eclectic evening of arts and culture in downtown San Jose's SoFA district, between San Carlos and East Reed Streets. The FIRST FRIDAYS artwalk takes place every first Friday of the month from 8pm 'til late. It is free and open to the public.

Participating venues include: Anno Domini, Caffé Trieste, KALEID, MACLA (Movimiento de Arte y Cultura Latino Americana), Phantom Galleries, San Jose Institute of Contemporary Art, San Jose Museum of Quilts & Textiles, SLG Art Boutiki & Gallery, South First Billiards & Lounge, Space 47, and Works San Jose. Visit southfirstfridays.com for more information.

About ZER01
ZER01 is an independent nonprofit organization whose mission is to inspire creativity at the intersection of art, technology, and digital culture. One of the primary enterprises of ZER01 is the 01SJ Biennial, a multi-disciplinary, multi-venue event of visual and performing arts, the moving image, public art, and interactive digital media. ZER01 also produces year-round signature programming leading to the 01SJ Biennial that serves to educate and cultivate audiences, build partnerships, and maintain visibility for the organization through lecture series, artist salons, workshops, and family-oriented special events. To find out more about ZER01, visit: zero1.org.