In honor of KFJC's 50th year on the air (we started broadcasting out of a closet in Mountain View, California in 1959), we're hosting an art competition!!!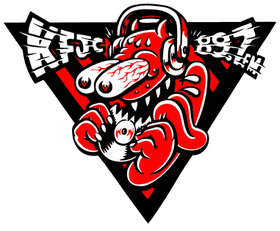 Here's the deal. If you have concepts for a unique piece of KFJC artwork, a new KFJC logo or a 50th Anniversary-themed KFJC T-shirt, please send them in.
Winners will receive cash honorariums and will be featured in a special exhibition on First Friday September 4, 2009 at KALEID Gallery in San Jose, CA. KFJC Staff and management have invited Sunny Buick, the 2002 Girlie Shirt artist, to participate as a guest judge (www.sunnybuick.com).

Artwork should fall into one of the three following categories:
-KFJC Logo
-Artist T-Shirt Design
-Mixed media / Freeform
KFJC LOGO- KFJC lovers show their loyalty to the station by donning their favorite KFJC logo T-shirts or slapping stickers emblazoned with the KFJC logo on their preferred mode of transportation. We're seeking new interpretations of "KFJC 89.7 FM" in logo form and invite your submissions in this category.
ARTIST T-SHIRT DESIGN-Over the years we've had a huge number of fantastic contributing artists for our limited edition fundraiser garb, including (but not limited to): Niagara, Sunny Buick, Arik Roper, Emek, Strk3, Mike King, Webster Colcord, Plastic Crimewave, Mike Zorn, Mike Davis, Frances Marin, Chris Reccardi, Robert Williams, and GAMA-GO! To see a selection of these designs, visit our KFJC Donation Page
This year we're looking for new T-shirt design submissions that celebrate KFJC's 50 years of broadcasting (since 1959!). Please make mention of that in your artwork.
MIXED MEDIA / FREEFORM-Perhaps you have an equally inspired idea for a sculpture, drawing, collage, photo, or other mixed media approach that is an homage to KFJC. Submit your piece (no original artwork, please) for consideration in the "mixed media / freeform" category. Be sure to include some mention of KFJC in your artwork (89.7 FM, KFJC, "Wave of the West," etc.).
Submit When? - NOW!!!! Submission deadline is: Friday, July 10th, 2009 at 11:59pm Pacific Time.
Winners will be announced on our website Friday, July 24th, 2009. (http://kfjc.org)
THE OFFICIAL RULES-Please view the official rules and entry form - click here
If you have additional questions, please email publicity[at]kfjc.org