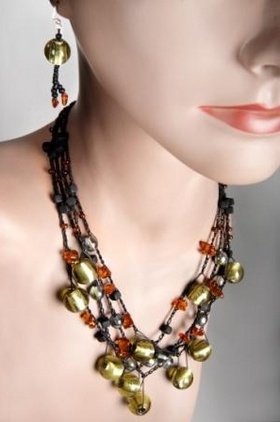 Julie Goodenough has two crochet classes coming up this month at Sandpiper Community Center in Redwood Shores.
Crochet a Beaded Necklace, Mon, April 20th
Pre-registration required at www.redwoodcity.org/parks and click on Online Registration
NOTE: This class fills very quickly so pre-register now to ensure you get in.
Crochet a Beaded Necklace, Course #21.260
1 Monday, 4/20/09, 6:30 – 9:30 pm
Skill level A: no crochet experience needed
$33 ($26 seniors, 60+) class fee, $25 materials fee
Appearances can be deceiving. A necklace that looks like an intricately beaded web is crocheted in the most basic stitch, the chain. Whether you're an absolute beginner or an experienced crocheter, you can create this elegant piece of jewelry that's perfect for holiday gift giving! Some crochet experience is helpful, but not essential.
Materials fee covers kit that includes everything you need to make your necklace: beads, beading board, thread, clasp, and pattern. Bring a size "C" (2.5 mm) and "E" (3.5 mm) hooks and scissors.
----------
Crochet 3 - The Sweater starts on Mon, April 27th
Pre-registration required. Go to www.redwoodcity.org/parks and click on Online Registration
PLEASE register early so that I can order enough books for the entire class.
Crochet 3 - The Sweater, Course #21.261
6 Mondays, 7:15 - 9:15 pm, 4/27/09 - 6/8/09 (no class Mon 5/25)
Fees: $75 class ($57 seniors, 60+), $15 materials fee
Skill level C: able to crochet even rows/rounds of basic stitches and read patterns.
You can design a sweater yourself! During the first half of the course you'll design and crochet a raglan sleeve sweater. In the last half you'll crochet a sweater from the pattern of your choice. Discover just how easy it is as you go through the design process step by step, mastering the fundamentals of sweater construction along the way.
Bring smooth worsted weight yarn, crochet hooks size "H" (5.0 mm) through "K" (6.5 mm), scissors, a tape measure, pen/pencil, & notebook. $15 materials fee payable to instructor at first class covers book for class, crochet gauge, and handouts.