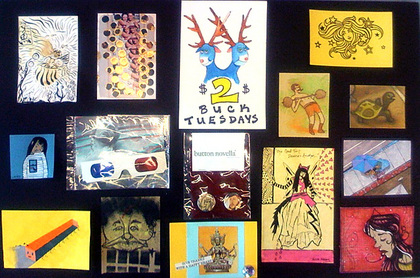 KALEID Gallery & the Two Buck Tues Crew presents:
TWO BUCK Tuesdays - March 17th. an all day $2 art sale and quirky speaker series on the third Tuesday of the month.
12noon - 8pm: $2 art all day
6pm -8pm: interesting people speaker series- 10mns each.
Featured Speakers:
Residing in California, Armo Movessian's work is a collaboration of typographic elements and exploration with graffiti structure and form. By looking at graffiti and typography, by studying their visual commonalities as lettering, much can be discovered and revealed.
Ben Henderson has been active in San Jose music and art for almost as long as he's been alive. Although best known for his musical projects, including Delta Activity, Good Hustle, and his eponymous solo project, Ben also works as graphic designer for the Santa Clara County Registrar of Voters. His recent work on the Registrar of Voters' mascot can be seen on mailers, billboards, and buses all over the county.
Christian Rotsko is head roaster at Barefoot Coffee Roasters, a San Jose based roastery dedicated to sustainability in all stages of coffee production. He's recently returned from Ethiopia, where he toured the farms and met the farmers with whom Barefoot has built relationships.
Before & After Speaker Series Entertainment:
Lacey Bryant will be demonstrating the traditional art of Ukranian Egg dying and making some not-so-traditional pictures on real eggs. Learn to make a picture on an egg that is very simple or wickedly complicated.
Gianfranco Paolozzi- accordion performance
"I first heard the sound of an accordion at the age of 5; I closed my eyes and it was all around me. That sound was stuck on my brain, on my skin, and in my heart. A Christmas present from my parents, my first and only accordion is the one gift I still embrace. Every note out in the air has a story; I am reminded of people I have lived with and the towns I have lived in. Today, I continue to play the red accordion and exude the sound of passion that I'd never want to lose."
Two Buck Tues Crew:
Christine Benjamin
Lacey Bryant
Eddie Flores
Trina Merry
Kyle Pellet
Matt & Maria Seigel
Kate Stewart
Two Fish Design
KALEID Gallery
88 South Fourth Street (street level of the 4th St. Garage)
downtown, San Jose
408-947-1785
free and open to the public.