KALEID Gallery is pleased to present two featured exhbitions by Eddie Flores and Jeremiah Kille for the month of March.
Artists' Reception First Friday March 6th, 7-9pm
This event is part of the South FIRST FRIDAYS artwalk. Free and open to the public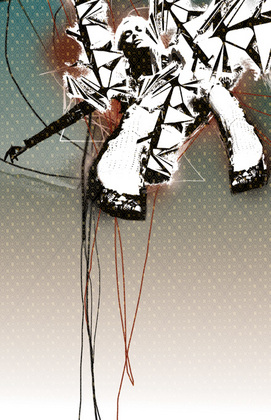 Suicide Noir: The Reduction of Eddie Flores an art exhibit in the medium of photography, illustration, and graphic design. It explores the human notion of love, in the context of self-reduction and negation, to arrive at a deeper and more meaningful place of light and possibility.
About the artist:
Eddie Flores comes to us from the Marianas Islands (Deep Pacific), with a background in illustration, painting, photography, digital media and spontaneous travel. His inspiration is derived from all things natural: including his relationship with the ocean, Eastern and Western philosophy, cheesy UFO abduction stories, street and bourgeoisie culture, lollipops, Courvoisier cognac, hopscotch, scotch, and long walks on the beach.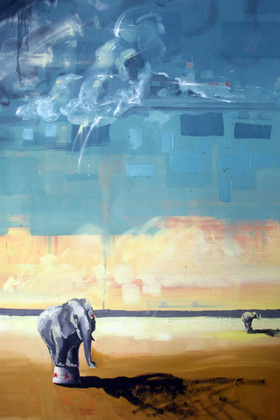 The Edge of Wonderment by Jeremiah Kille
Death is something that is eminent to all, yet we confront and interact with death in very different ways. Through culture, religion, upbringing and personality we each have a unique way of viewing or relating to death. I am fascinated with the extremes of individuals responses.
At the beginning of the Twentieth Century, the circus was a form of entertainment, that captivated peoples imaginations. Since then, people moved on to "the new craze", some other form of entertainment. The circus came to end. I chose to use the circus, as a catalyst to explore the idea of finality. Many of the images are of elephants after the crumble of the "Big Top", misplaced and without work or purpose.
About the artist:
Jeremiah Kille uses traditional mediums, as well as materials that are used to construct surfboards. Building surfboards is something he is connected to deeply-using different types of resins and pigments to express and explore my ideas, it is a natural progression in his image making.
Jeremiah lives in Santa Cruz where he builds surfboards and makes art. He is currently completing his BFA degree at San Jose State in Pictorial art.
KALEID Gallery
88 South Fourth Street, downtown San Jose
408-947-1785
Gallery Hours:
Tuesday thru Friday, Noon - 7pm
Saturday Noon - 5pm
First Fridays til 9pm