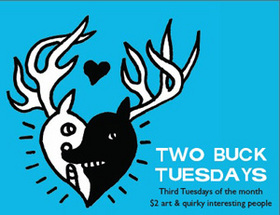 KALEID Gallery & the Two Buck Tue Crew presents:
TWO BUCK Tuesdays - February 17th.
an all day $2 art sale and eclectic speaker series on the third Tuesday of the month.
12noon - 8pm : $2 art all day
6pm -8pm : art related speaker series- 10mns each, featuring:
Fernando Amaro -Fernando Amaro will explore the fusion of graffitti art and fashion.
Kevin Park , "Less-than-perfect"
Less-than-perfect expression with less-than-perfect media for better-than-before results.
What you already know: I am rocket scientist from Caltech who doesn't like technology.
What you may not know: I don't know how to juggle.
and $2 portraits throughout the evening by Manny Silva
Locally grown illustrator Manny Silva, who's clients include the Fillmore, Belle and Sebastian, Sufjan Stevens, and Old Navy, will be drawing portraits in the spirit of Adrian Tomine and sixties comics for two bucks a pop.
music by DJ Egnytion
To view pics of past TBT events, click here.
KALEID Gallery
88 South Fourth Street (street level of the 4th St. Garage)
downtown, San Jose
408-947-1785
free and open to the public.