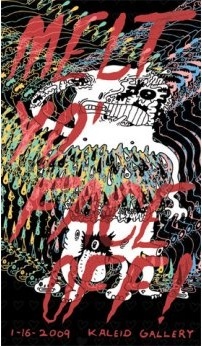 Kaleid Gallery and Pellet Factory are proud to present:
Melt Yo' Face Off! - New Works on Paper
January 16, 2009-January 30, 2009
Reception: Friday, January 16, 2009, 8pm 'til late (with live music by Panthelion)
Kaleid Gallery
88 South Fourth Street [street level of the 4th St. Garage]
San Jose, CA 95112
www.kaleidgallery.com
408-947-1785
25 of the gnarliest artists from all over the country scheduled to be part of this show.
Here's a list of artists involved:
Jesse Balmer
Randy Bastos
Francisco Cervantes
George Chen
Vice Cooler
Mark Damrel
Ryan de la Hoz
Mike DeForge
Liam Devowski
Gabriel Dieter
Danny Espinoza
Eddie Flores
Michael Foley
Yoko Furusho
Andy Gouveia
Ben Henderson
Wei Hwu
Evan Meister
Woody Miller
Pellet
Greg Pizzoli
Matt Pugnetti
Brittany Rediger
Centa Schumacher
Matthew Seigel
Kate Stewart
Andrew St. Lawrence
Sara Taylor
Roan Victor
Amberlin Wu
This exhibit is cash and carry, so make sure to check it out sooner than later!
For more information, please visit www.kaleidgallery.com, or contact exhibit curator: kylepellet@yahoo.com or call 408-947-1785.