UPDATE: Thanks to everyone that came out to the last TBT....it was a great turnout and we look forward to seeing you at the next one on January 20th!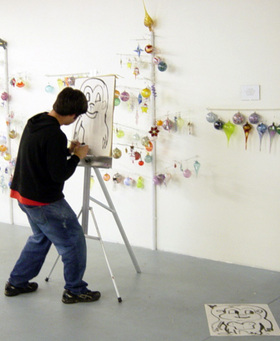 Kyle Pellet

Come out Tuesday, December 16 for a $2 art sale beginning at noon. Thatís right - you can pick up original pieces of art from a number of amazing artists for only $2! Stick around though, because at 6PM there will be an eclectic group of artists, geniuses and oddballs from all walks of life talking on assorted topics in 10 minutes or less.
Opera singer Giovanna Hutchinson will be discussing the often considered (and often dreaded) notion of pursuing of a career in the arts.
Melissa Jennifer Behravesh, Associate Director of Smith Andersen Editions in Palo Alto, will, if we are lucky, explain why her incisors are in her sterling silver fine art jewelry.
Gianfranco Paolozzi - Circa 52 years in the so called "art making" from Italy to California in 10 minutes.
$2 art goes on sale at 12Noon - 8pm
Artist speakers (gathering and refreshments): 6pm - 8pm
Hosted by: Eddie Flores, Kyle Pellet & Matthew Seigal
Tuesday, December 16th, 6-8pm
KALEID Gallery
88 South Fourth Street, downtown San Jose
(btwn Santa Clara & San Fernando, next to Flames Restaurant)
408-947-1785