Full view - click images to enlarge
Abundance is Constant by Andy Gouveia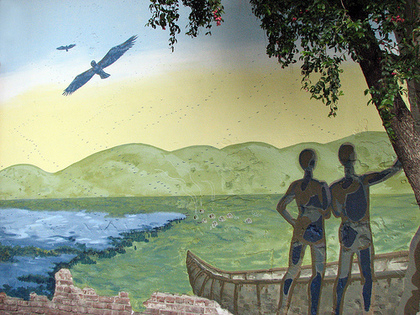 left detail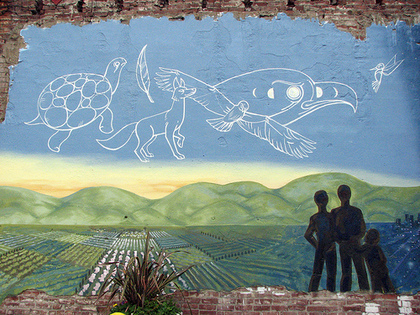 center detail

right detail
About the mural Abundance is Constant: I've created a panoramic landscape that moves left to right through the history of the San Jose valley and its people. Starting at the left in the pre-colonial times, we see the bay marshes and abundent lands. The sky is filled waterfowl as the somke from an Ohlone village rises. Two Ohlone stand next to a mighty valley oak, a boat at their feet as they gaze towards the future. To the right we see the second section. A fruit tree blossoms in the foreground as a valley of orchards spreads out below rolling hills. In the skies above, white lines shape the characters of the Ohlone stories. Coyote, Eagle, Turtle, Hawk and Hummingbird dance behind the phases of the moon. Moving to the right, shadows painted from that location's existing trees will help create boundaries to transition to the final future section. In the rightmost area, a family looks out on the San Jose skyline. It is illuminated by the points of city light mimicking the stars overhead. And in the sky, circuitry swirls out from silicon valley's center, spreading innovation and technology to the world. The mural is symmetrical, drawing parallels and uniting the people of the valley's past, with those of its future. -A.G.

About the artist: Andy Gouveia is a California artist. He is inspired by nature and the writings of Joseph Campbell. He has been in painting shows throughout California and painted over ten murals along the west coast and one mural in Japan. He is inspired by the work of Paul Klee, Georgia O'Keefe, Barron Storey, the Group of Seven, Yoshitoshi, William Steig, Moebius and a whole host of musicians. He is working on a children's book and a graphic novel. He loves to dance, sing, eat, and have a good laugh.
The mural is located on the north side of 82 South Second Street (across from the Improv Comedy Club, facing the parking lot)
For more images of the mural in progress, click here.