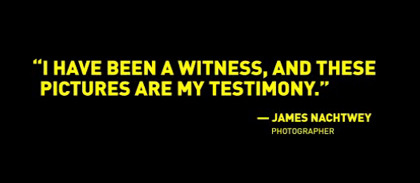 Our sister chapter of Phantom Galleries in Los Angeles is collaborating with TED Prize to help distribute this important photography exhibition to raise awareness of XDR-TB.
TED Prize Winner James Nachtwey Unveils XDR-TB as Focus of Global Photography Wish Project
Award winning photojournalist, James Nachtwey, revealed today the disease XDR-TB as the subject of his TED Prize Wish photography slideshow project. Nachtwey is premiering the culmination of his year long wish project with an eight page spread in TIME magazine, a gathering of global activists and leaders, outdoor screenings around the world and on the Internet at www.xdrtb.org in an effort to raise awareness about the disease.
The TED Prize is awarded annually to three exceptional individuals who each receive $100,000 and are granted one wish to change the world. In raising awareness about a XDR-TB, a virulent, mutated strain of traditional TB existent in 49 countries and responsible for over 20,000 preventable deaths each year, Nachtwey comments, "Photographers go to the extreme edges of human experience to show people what's going on. They aim their pictures at your best instincts: generosity, a sense of right and wrong, the ability and the willingness to identify with others, the refusal to accept the unacceptable."
Nachtwey's slideshow will be screened in public spaces in cities around the world including; New York, Paris, Los Angeles, Melbourne, Seoul, Hong Kong, and London, on all 7 continents and across the internet starting on October 3rd and continuing throughout the month. Paul Simon (Singer/Songwriter), Dr. Larry Brilliant (Google.org), Joanne Carter (RESULTS), Dr. Marcos Espinal (World Health Organization), Rajat Gupta (The Global Fund), and Winstone Zulu (Survivor/Activist) will all gather with Nachtwey in New York City for a special event this evening.
Joanne Carter, executive director of RESULTS USA, the medical advocacy group supporting the campaign says, "We hope that the visibility achieved by the global unveiling of these photos will underscore the danger of under funding and lack of global attention to TB programs, spur people around the world to demand action, and spur world leaders to act."
Using haunting images in a digital slideshow, this multimedia campaign will raise awareness about XDR-TB and launch a social action campaign with partnering organizations, RESULTS and Demos UK. The TED Prize produced James' wish project as part of a collaborative effort with partners BD, TIME, the Streaming Museum, and Phantom Galleries (Los Angeles).http://www.jamesnachtwey.comhttp://www.tedprize.org
ABOUT JAMES NACHTWEY:
James Nachtwey is one of the best known and most highly regarded current photojournalists who has devoted himself to documenting wars, conflicts and critical social issues. He has worked on extensive photographic essays worldwide and is known for getting up close to his subjects, or as he says, "in the same intimate space that the subjects inhabit," and his current project is evidence of that. For more information, please visit www.jamesnachtwey.com.
ABOUT TED & THE TED PRIZE:
TED stands for Technology, Entertainment, Design and it started in 1984 as a conference bringing together people from those three worlds. The annual conference now brings together the world's most fascinating thinkers and doers, who are challenged to give the talk of their lives in 18 minutes, which TED then shares on-line to achieve their mission of spreading ideas globally. For more information, visit www.ted.com.
The TED Prize is designed to leverage the TED Community's exceptional array of talent and resources. It is awarded annually to three exceptional individuals who each receive $100,000 and, much more important, the granting of "One Wish to Change the World." After several months of preparation, they unveil their wish at an award ceremony held during the TED Conference. Past winners include; Bono, Dr. Larry Brilliant, former President Bill Clinton, writer Dave Eggers, and religious historian Karen Armstrong. Please visit www.tedprize.org.