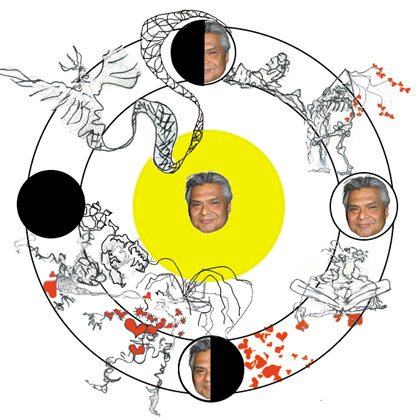 THURSDAY GIG - Art & The Spoken Word
Thursday, Sept 18, 2008 6:30 - 9:30 pm
FEATURING - Artist: Al Preciado and Poet: Bea Garth
NEW LOCATION! Stone Griffin Gallery, 287 E. Campbell Ave., Campbell, CA 95008
POTLUCK / BYOB - Also Bring Your Own Camper Chair. No (or few) chairs provided.
Begins 6:30 pm with Potluck and Music
Art Q & A begins 7:15 pm
Featured poetry reading begins 7:30 pm, Open Mic follows.
ARTIST: Al Preciado is an internationally renowned artist, gallery owner, art instructor and poet. Best known for his art, Al has been reviewed extensively throughout his 30 year career.
Slashing brush strokes on canvas and visceral ceramic sculptures take us through THE HERO'S JOURNEY: Crushing blows and songs of joy are unflenchingly faced in Al Preciado's work. This is work that wants to be touched and felt for all of it's power and grace, that you as the viewer will feel in the beauty of it's truth.
His poetry is as striking as his visual images, leaving us much to reflect on, transforming us in it's wake.
POET:
Bea Garth brings us into her world with poetry reminiscent of Hemingway's conversational style intertwined with the mythic and archetypal. One wants to be by a cozy fire and spend hours and hours with poems that could string together into an epic work, piecing together a life ventured into and explored; a life that makes us wish we had done thus and so even if it hurts even if it sings, just to have those moments that you know weren't blank pages in a journal you were given and never got around to using. Her art reflects the intricate pathway of a life not to be pushed, not to be hurried, not to have missed the roses.
Bea will be reading from her book called Eating The Peach (poems and drawings about love and iIlusion) as well as more recent pieces. She plans to have working copies of her new book available for perusal and sale.
Organizers: Bea Garth and Elizabeth Parashis will also show some examples of their artwork.
Elizabeth Parashis is an expressionist figurative painter with an energetic sense of line, color and feeling for the human form.
Bea Garth is a ceramic sculptor with a unique style which incorporates geometric or abstracted forms with elaborately carved (often narrative) surfaces. www.beagarth.com. For this exhibit she plans to bring some of her pen and ink drawings that compliment her book, Eating the Peach.
Note: Bea also edits an online arts etc. magazine blog called "Eos: The Creative Context" at eosthecreativecontext.blogspot.com. She is currently looking for more art and poetry submissions as well as social/political/arts commentary. Email her at info@beagarth.com.