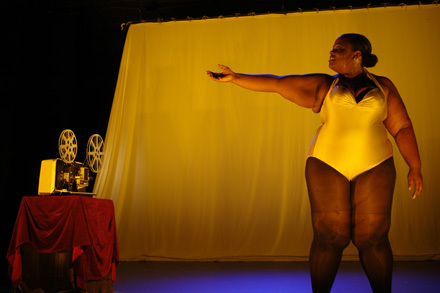 MACLA's Performance Art Program presents Cabaret Unkempt
In residence from October 5 - 11
In their week long residency made possible with the support of the National Performance Network, Miami-based performance art duo Jennylin Duany and Elizabeth Doud kick things off by leading a series of community workshops related to performance and body-image at the Billy De Frank LBGT Community Center. Later in the week they perform Cabaret Unkempt, an irreverent and satirical theater piece which uses projected media, music, and poetry to explore Duany's Cuban-American background, her body, her self-image and her moving, often hilarious, experiences as a performer of "size" in a culture where size definitely matters. The work offers audiences a voyeur's pleasure of peeping into a world of sensual audacity to explore moments when all of us, regardless of size, must confront our body-trappings and face our deepest insecurities.
The performers ruminate on the bombastic expectations of control, body mass, plastic surgery and self acceptance in a world obsessed with body image. The work surveys the landscape of "unkempt women," and creates a cartography of her body's journey.
Workshops: Tuesday 10/7 and Wednesday 10/8, 4pm – 8pm
The group holds a two-day workshop to address the effects of body prejudice and its effects on society and individuals. The second meeting is intended to build upon the first. It is recommended that participants attend both sessions.
Admission: Free of charge
Location: The Billy de Frank LGBT Community Center
938 Alameda, San Jose, CA 95126
(408) 293-3040
Performances: Friday 5/10 and Saturday 5/11
Doors: 7:30pm, Show: 8pm
For two nights in a row the duo performs Cabaret Unkempt, their full-length multi-disciplinary theater piece.
Admission: $7-10 at the door
Location: MACLA's Castellano Playhouse
510 S. First Street, San Jose CA, 95113
For more information contact David – Literary and Performance Art Program Coordinator – david@maclaarte.org – 831.332.1690