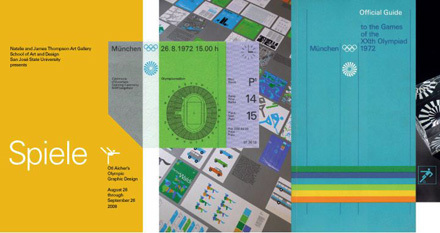 Spiele: Otl Aicher's Olympic Graphic Design
An exhibition of graphic design by the office of Otl Aicher for the 1972 Munich Olympics.
Presentation by guest curator Joe Miller:
5pm Tuesday, August 26, in Art room 133
San José State University
Opening Reception follows at 6pm
Admission free.
Exhibit on view: August 26 to September 26, 2008
Natalie and James Thompson Art Gallery
School of Art and Design, San José State University
9th and San Carlos Streets on the SJSU campus near downtown San José
Parking garage at 7th and San Salvador Streets
Gallery hours: Tuesday-Friday 11am-4pm
& Tuesday evening 6-7:30pm, and by appointment
gallery phone 408.924.4723
Otl Aicher (1922–1991) is a major figure in 20th century graphic design. Aicher's comprehensive work for the 1972 Munich Olympics is the definitive example for today's graphic identity and branding programs. The posters, tickets, books, brochures, uniforms, signage, and architectural graphics in this exhibit demonstrate the playful humanity and exuberance that simple elements of icon, type, color, and texture are capable of producing when in the mind and hands of a master designer. This major exhibition will include 50 posters as well as dozens of other objects from the 1972 Olympics and other identity projects by Büro Aicher.
exhibition preview: http://www.joemillersco.com/spiele.html