You're invited to attend the artists' reception for "Black and White and Read All Over" a visual response to recent news by 16 artists at the Dr. Martin Luther King, Jr. Library this Sunday, Aug. 10th from 2-4pm.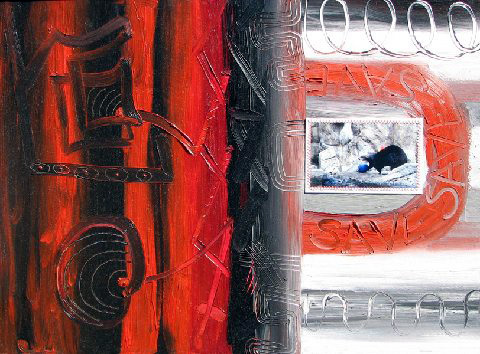 "Save" by Donna Orme

"Black and White and Read All Over" is a project of members of Allied Artists West, a Santa Clara Valley professional art organization. Sixteen artists chose the period February 29, 2008 through April 1, 2008 to scan local newspapers for relevant articles. The purpose is to demonstrate that current events are experienced in unique ways by different segments of the community. These articles serve as the inspiration for works produced by the individuals artists.
Exhibit on view thru August 31st.
Dr. Martin Luther King, Jr. Library/SJSU
150 E. San Fernando St., San Jose