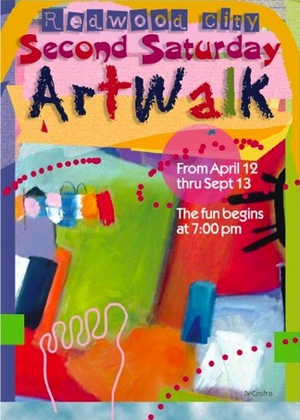 Phantom Galleries Redwood City invites you to a celebration of its debut exhibition in downtown Redwood City. This is an excellent opportunity to experience an eclectic contemporary art exhibit, meet the artists, and enjoy music and refreshments in a casual social atmosphere.

Featured artists include:
Francie Allen
Martha Castillo
Rochelle Ford
Sarah Beth Goncarova
Sarah Ricchiuti
Oleg Lobykin
Woody Miller
Beth Mostovoy
Terenia Offenbacker
Michelle Reynolds
Joyce Savre
Julia Seelos
Cindy Stokes
April Vanderbilt

Artists' Reception: 7pm - 9pm.
Second Saturday, June 14, 2008
2115 Broadway & 2125 Broadway, downtown Redwood City (Map)
Live music by Panthelion
Hors d' oeuvres by Bangkok Bay Restaurant and cupcake desserts by Michelle Reynolds (while they last!)
Free and open to the public.
Phantom Galleries Redwood City is a project in which community artists come together to enliven vacant storefronts with colorful exhibits and installations to create a 24/7 fine art gallery viewable from the sidewalk. The project is produced by Two Fish Design in partnership with the Redwood City Redevelopment Agency. For more information, please call 408.271.5151 or info@PhantomGalleries.com

This reception is in collaboration with the Redwood City Second Saturday Artwalk which also features Gallery 2611, bazaar brazil, Redwood City Art Center, Art on Broadway and the Main Gallery.
As the summer kicks in, join us on a unique ride on the cable car hopping from one Art Gallery to the other, celebrating art, music in the best weather town of the Bay Area. Next, Second Saturday Art Walk in Redwood City coming up on June 14th 2008:

Begin your art walk experience, by parking your car at Sam Trans parking lot corner of California and Broadway, (free parking after 6pm). Stroll down the first block of Broadway visiting Gallery 2611, 2611 Broadway, listen to live music while viewing fabulous "The House of Stone" sculptors from Zimbabwe, oil, watercolors and jewelry, something for everyone at Gallery 2611.

Then stroll two doors down to Art on Broadway and see their fine collection of local artists, purchase art work directly from the artists at Art on Broadway, and enjoy the work of 28 working artists studios at Redwood City Art Center, both galleries in the same location, 2625 Broadway.

On the same block, walk to bazaarbrazil, meet Mara and Bedy and hear the wonderful stories behind the beautiful fair trade merchandise at bazaarbrazil, 2662 Broadway. Here, you will find gifts that keep on giving, celebrating people and planet.

Once you have seen these galleries, hop on for a fun ride that will take you to the Phantom Galleries celebration of 14 fine artists featured in the project's debut exhibit located in two buildings 2115 Broadway & 2125 Broadway. The reception will include music, food and refreshments.

Next stop, jump back onto the cable car and visit the Main Gallery located at 1018 Main St., RWC this quaint house is not only is the home of Alana Cafe it serve as a unique Gallery to many local artists. Once you have seen the sight the cable car will makes its way back to the front of The Main Street Gallery hop on board to your original destination.

An evening of arts, entertainment, refreshments and a unique ride on a cable car throughout the town. For more information call 650-364-2611