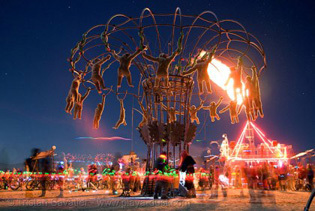 UPDATE: Homouroboros Dedication Ceremony May 17th!!
Please join burners, press and public for the Black Rock Arts Foundation ribbon-cutting ceremony for Peter Hudson's Homouroboros installation! This will be the official kick-off for the Zero1 festival, and the beginning of an entire month of monkey business in downtown San Jose.
The dedication will take place at 6pm on Saturday, May 17th at the Children's Discovery Museum - Discovery Meadow (directions here: http://tinyurl.com/6bbop3). Once the ribbon is cut by Melissa Alexander, Executive Director of BRAF, and Peter Hudson, the artist and creator of Homouroboros, the drums will start to pound and the zoetrope will start to spin. Get ready for what Wired Magazine called the winner of the "WOW, did you see that?" survey at Burning Man 2007.
Reception follows the ceremony, 7pm - 9pm at Anno Domini gallery with food and refreshments. Be sure to see this incredible zeotrope at its best ... in full dark ... to appreciate the effects under the strobe lights of what scientists call "the persistence of vision". We'll all walk over to the monkeys at 9pm for a full night experience!
And don't forget, this piece will be in Discovery Meadow from May 15th - June 15th. Come by during the day, too (we'll have special daytime viewers available). Bring friends, family, kids, neighbors and co-workers! It's free to the public and a perfect fulfillment of BRAF's mission to place experimental, highly interactive art in public settings.
===================================
Volunteer Docents Needed To Host Homouroboros!
The Black Rock Arts Foundation is about to install a huge animated zoetrope full of life-sized monkeys in Discovery Meadow from May 15 to June 15, and we need some unique volunteer help to ensure the public touches it!

Wired Magazine called Peter Hudson's Homouroboros winner of the 2007 "Wow, did you see that?" award at Burning Man, among hundreds of unconventional expressions of radical creativity. Triggered by the public playing drums, the 24' high 30' wide spinning installation features strobe lights at night and shutter glasses by day to give the appearance the monkeys are swinging through a giant Victorian-era tree sculpture.

Homouroboros is perhaps the most interactive, viscerally intense, and engaging public art most people have encountered. It is coming to the park, not a museum, as an experiment, because San Jose is one of the most diverse cities in the nation and this free gift is for everyone. To support an amazing public experience with high-tech art so unconventional, we seek docents to staff the installation, invite folks to play with it, answer questions, and call our support team of Monkey Wrenches if anything breaks. Won't you help? Please email: southbay@burningman.com.

We especially need docents during daytime hours, beginning 10AM, and we would especially love groups from companies, schools, cultural, or community organizations to host for a shift or two. We expect crowds 10AM-10:30PM since Homouroboros will be actively promoted as a preview to the 2nd Biennial 01SJ Global Festival of Art on the Edge, coming June 4-8 - don't miss that!

Engaging passers-by who are totally amazed by a giant art installation we're hosting is an experience we love, and invite you to know. We also invite you to know us, since this installation and the Black Rock Arts Foundation are both about stimulating community and civic participation through art. We deeply appreciate Anno Domini and Phantom Galleries' strong support of this project and our mission.

Project Page: http://www.blackrockarts.org/projects/homouroboros
Team Site: http://groups.yahoo.com/group/BigMonkeyBusiness/
Images: http://tinyurl.com/63ar4e
Video: http://tinyurl.com/5fh7c8