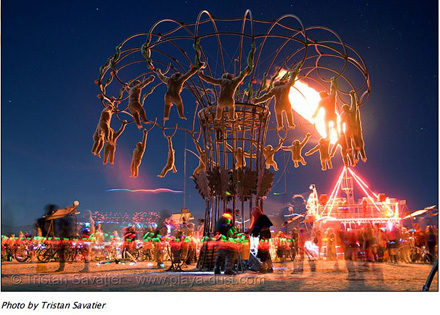 Black Rock Arts Foundation is working to bring Homouroboros by Peter Hudson to San Jose for a month long exhibit beginning mid May, 2008. At 24 feet tall and 30 feet in diameter, Homouroboros is one of the largest, most ambitious zoetropes ever created, and public exhibition of the piece will establish a new level of interactivity for public art.
A community event featuring the artist will be held at Anno Domini gallery on Thursday, March 20th from 6:30pm - 9pm. Admission is a $10 donation, no one turned away for lack of funds. All proceeds to benefit the Homouroboros project. ($28,000 has already been raised toward their goal of $40,000.)
Volunteers are also needed to support this amazing outdoor, interactive exhibition. If you would like to lend your hands or mind to this project, feel free to attend this event for more informaiton, or visit their site here.