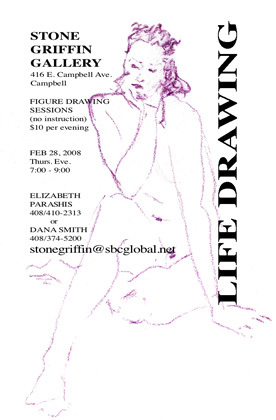 Elisabeth Parashis and Dana Smith will be hosting monthly figure drawing sessions at Stone Griffin Gallery in Campbell beginning Thursday February 28th at 7pm - 9pm.
The cost is $10/evening (no instruction). Bring your own easel and paper to place beneath for chalk dust.
Contact Elizabeth at 408.410.2313 for more info.
Stone Griffin Gallery (inside the "Art Framing" shop)
416 E. Campbell Ave., Campbell
408.374.5200