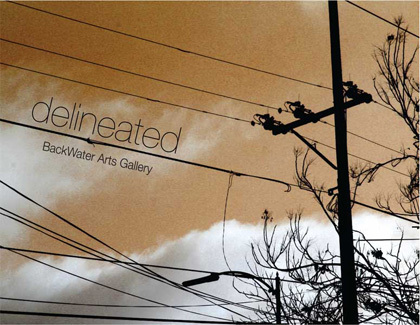 Backwater Arts presents: delineated
Artists' reception February 16th, 6-10pm
From materials to process, this exhibition highlights a few Bay Area artists that have used the element of line in their work. These artists have experimented with insizing wax, carving wood, combining strips of parper and sowing organza in addition to traditional media, such as drawing, painting and photography.
Justin Amrhein, Sara Cole, Jason King, Norman Lee, Victoria May, Mike Oechsli, Fanny Retsek and Carla Turtirici.
Backwater Arts is also hosting a Collaging & Combining with Wax workshop on Sunday, March 2nd and Saturday March 8th. (clik "continue reading" for more info.)
$100/limit 10 per day, $175 for both
Two day intensive exploration of the possibilities of combining mixed-media collage and wax. Explore adding handmade papers, old works on paper, wood, wire, photographs, and organic materials into wax. Beginning & Intermediate levels. On Sunday we will cover beginning steps to "mixed media" projects with wax along with preparing appropriate substrates, and on Saturday we will delve deeper into both the "combining" possibilities and how to present, mount and preserve our projects. You can sign up for one or both days. Workshop to be held outdoors at BWA Gallery grounds. Rain or shine, the workshop WILL be held!!!