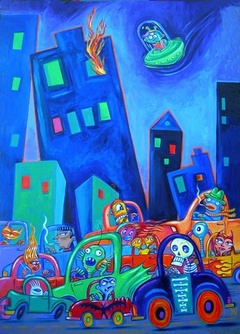 Christine Benjamin won 1st place for her painting "Another Day In The Big City" (pictured above) in the "Heart of Chaos: Uproar" group show at South First Billiards. People came and voted for their favorites at the reception on Friday, Nov. 2, 2007 which included more than 50 artists. The show will be up until Nov. 22nd.
South First Billiards
420 South 1st Street, Downtown San Jose
Christine will also have work in a large holiday group show called "Tiny" at Studio Gallery SF from Nov. 7th thru Dec. 23rd, with a reception on Nov. 10th from 4-8pm.
Studio Gallery
1718A Polk Street
San Francisco, CA 94109