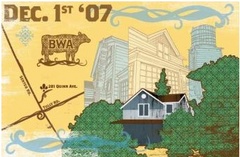 BackWater Arts Studios and Gallery invites you to their inaugural exhibition and open house. BWA is a new arts organization attempting to bring community action and involvement to the San Jose art scene.
There will be 10 artists with open studios, a gallery full of art, live music by Cole Higgins, and great community.
BWA Studio Residents: Kenny Brown, Julie Cardenas, Sara Cole, Jason King, Colin King-Bailey, Mike Nicholls, Michael Oechsli, Sharona Oshana, Lillia Panighetti and Ann Sherman.
Featuring Local Artists: Sidnea Damico, Julie Jacobsen, Shelby Smith and Jeanne Vadeboncoeur
BackWater Arts Gallery
281 Quinn Ave, San Jose, CA 95112 (look for the beautiful Victorian house)
Exhibit & open house: Saturday, December 1, 6:00-10:00pm